Video Art Zine 1.1 + 1.2
Jeffrey Evergreen (Ed.), 2021, 2022
two booklets, 24 pages each, 6x8in each
4-color Riso (Fluorescent Pink, Orange, Yellow,
Light Lime, Light Teal, Blue, Sky, Medium Blue,
Slate, Black)
CONTRIBUTORS
cinema.av
Devin Greenwood
Holofiche Media Systems
Jog Films
ReverseLandfill / M. Verhallen
Sean Deyoe
Gard Gitlestad
337is
Spike the Percussionist
Bereen Ondo
Rob Toner
Paloma Kop
ex zee ex
Agawell / jimhowell1970
Michael N Meyer
bobby pharaoh
Pascal Hector
Breaking the Remote Interface
David Jackson
Mike Stoltz
CountFunkula +DFRXN_Limited
taasets
jevergreen
Video Art Zines 1.1 + 1.2 present a collection of
video stills contributed by 23 artists from the
Scanlines and LZX Community online forums in 2020.

* I'd like to share my sincere gratitude and
appreciation for the artists who sent images in to
create this visual document in Riso-printed form.
Everyone who responded to the Open Call with more
than one image was included, which I'm very excited
about, because this issue was inspired by the
collective energy behind the screens. I am honored
to work with such creative, generous makers, many
of whom both inspired and facilitated my own
explorations in the fascinating world of
video circuits. * Happy Patching ~ Jeff Evergreen
###
Interlude
Jeffrey Evergreen, 2017
24 pages, 148x210mm
2-color Riso (Red/Green/Brown/Black)
Photographs from the Interlochen Center for the
Arts, taken while serving as Richardson-Spica
Fellow / Artist-in-Residence for Photography and
Printmaking, Winter 2016. Printed using the four
colors that originally came with the press.
###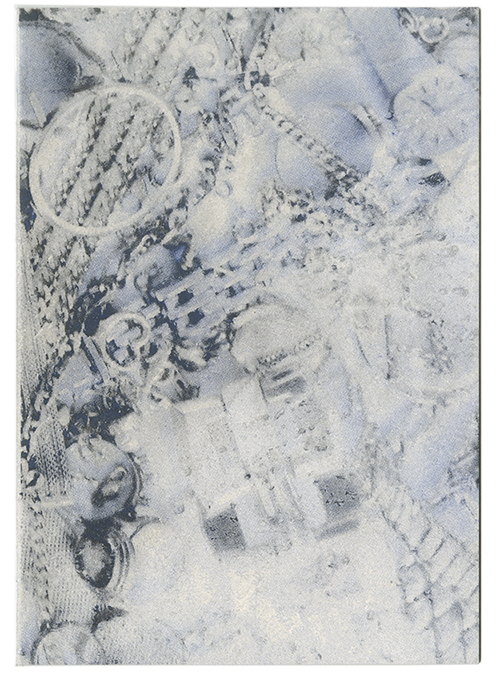 Fade to Blue
Jeffrey Evergreen, 2017
16 pages, 148x210mm
2-color Riso (Sky/Black)
Travel pics of weathered graphics from Mexico,
Germany, Italy, and the United States.
###